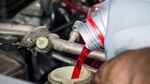 Some vehicle maintenance questions have simple answers. Change your oil as recommended by the manufacturer, and your engine may deliver 200,000 or more miles of service. But if you forget to change the oil and filter regularly, you could reduce your engine's long-term health. The resulting may be a large repair bill.
The same holds true for your automatic transmission and its fluid. Regular maintenance is the key to transmission longevity. If you are looking for a clear answer of "When?", all we can say is recommendations vary by manufacturer and model. Below we have best practices, instructions on how to check transmission fluid, and more.
Best Maintenance Practices
If you have a new vehicle or one with service records showing regular transmission fluid changes, continue to do the fluid and filter changes recommended in your vehicle owner's manual. A qualified service technician should flush and refill the transmission. You should have the filter changed at the same interval to avoid plugging up and causing fluid starvation.
Flushing is the process by which the new, fresh fluid forces out the old, using the transmission's pump to do the pushing. The transmission pan (the pan on the bottom side of the transmission) holds only one-third to a half of the fluid. A large amount is stored in the transmission's torque converter. So, just for the record, simply emptying the pan is not a proper fluid change.
During service, technicians replace the fluid and filter. They also retorque the transmission valve body bolts and install a new transmission oil pan gasket to avoid any leaks. A transmission fluid change range in price from $100 to $300. It's money well spent.
How to Check Your Transmission Fluid
Many vehicle owners will be familiar with automatic transmission dipsticks, commonly located near the back of the engine under the hood. It is important to note that some new cars do not have dipsticks; the fill point is under the vehicle on the transmission near the pan. If you can't find the dipstick, a review of fluid level and fluid coloration is a bigger challenge. In these cases, you have to enlist a professional shop or franchised dealer.
New automatic transmission fluid is generally pink or red. If your transmission has a dipstick, take a sample and wipe it on a white paper towel to see if it looks fresh (pink or red) or is something less favorable. Dark red, rusty or black means your transmission needs attention. If the fluid has flecks of metal in it, clearly an internal transmission component is failing, and you should immediately go in for service. A foamy, bubbly looking fluid means that the transmission could have been overfilled — or something worse. Again, immediate attention is vital.
Hazards of Deferred Maintenance
With automatic transmissions that have not been serviced for a while or have no history of service, replacing the old oil with new transmission fluid can actually cause transmission failure. This is because the foreign matter floating in that old fluid (it's mostly clutch material) is actually helping the internal clutches find their grip.
RELATED: Do I Need a New Transmission?
If you pour in new clean fluid, it washes that matter away, and the internal clutches begin to slip. This is especially true with vehicles with more than 100,000 miles and no record of regular transmission fluid service. While some technicians feel you should never change the transmission filter, you'll find, after some thorough online research, you need to change the filter to avoid causing fluid starvation.
Regular Maintenance a Must
Making certain your fluid levels are on the mark and keeping regular maintenance schedules will help your transmission deliver well over 100,000 miles of trouble-free service. Transmission rebuilds are not cheap, in the range of $4,500 to $6,000 or even more depending on the make of your vehicle.
A rebuild requires removing the transmission from the vehicle and assembling it with factory-approved components. Some shops and dealerships suggest installing brand-new transmissions rather than rebuilding it. High-tech variable ratio transmissions, such as those Honda and Nissan commonly use, generally require full replacement due to their complexity.
Extra Transmission Fluid Tip
If your transmission is slipping from time to time, but the fluid appears clean, you can try several "Stop Slip" additives. As noted, overfilling an automatic transmission is a bad idea, so you have to remove about a pint of fluid from the system before pouring in the additive.
If you have a dipstick, you can purchase an aftermarket pump that will draw fluid out of the dipstick tube with a plastic hose. Sometimes, this helps reduce slippage, but don't kid yourself, you're only buying time.
Like it or not, your transmission will require service soon. It's money well spent. Find out how much a transmission fluid change costs in your area for your vehicle.
Some vehicle maintenance questions have simple answers. Change your oil as recommended by the manufacturer, and your engine may deliver 200,000 or more miles of service. But if you forget to change the oil and filter regularly, you could reduce your engine's long-term health. The resulting may be a large repair bill.
The same holds true for your automatic transmission and its fluid. Regular maintenance is the key to transmission longevity. If you are looking for a clear answer of "When?", all we can say is recommendations vary by manufacturer and model. Below we have best practices, instructions on how to check transmission fluid, and more.
If you have a new vehicle or one with service records showing regular transmission fluid changes, continue to do the fluid and filter changes recommended in your vehicle owner's manual. A qualified service technician should flush and refill the transmission. You should have the filter changed at the same interval to avoid plugging up and causing fluid starvation.
Flushing is the process by which the new, fresh fluid forces out the old, using the transmission's pump to do the pushing. The transmission pan (the pan on the bottom side of the transmission) holds only one-third to a half of the fluid. A large amount is stored in the transmission's torque converter. So, just for the record, simply emptying the pan is not a proper fluid change.
During service, technicians replace the fluid and filter. They also retorque the transmission valve body bolts and install a new transmission oil pan gasket to avoid any leaks. A transmission fluid change range in price from $100 to $300. It's money well spent.
Many vehicle owners will be familiar with automatic transmission dipsticks, commonly located near the back of the engine under the hood. It is important to note that some new cars do not have dipsticks; the fill point is under the vehicle on the transmission near the pan. If you can't find the dipstick, a review of fluid level and fluid coloration is a bigger challenge. In these cases, you have to enlist a professional shop or franchised dealer.
New automatic transmission fluid is generally pink or red. If your transmission has a dipstick, take a sample and wipe it on a white paper towel to see if it looks fresh (pink or red) or is something less favorable. Dark red, rusty or black means your transmission needs attention. If the fluid has flecks of metal in it, clearly an internal transmission component is failing, and you should immediately go in for service. A foamy, bubbly looking fluid means that the transmission could have been overfilled — or something worse. Again, immediate attention is vital.
With automatic transmissions that have not been serviced for a while or have no history of service, replacing the old oil with new transmission fluid can actually cause transmission failure. This is because the foreign matter floating in that old fluid (it's mostly clutch material) is actually helping the internal clutches find their grip.
RELATED: Do I Need a New Transmission?
If you pour in new clean fluid, it washes that matter away, and the internal clutches begin to slip. This is especially true with vehicles with more than 100,000 miles and no record of regular transmission fluid service. While some technicians feel you should never change the transmission filter, you'll find, after some thorough online research, you need to change the filter to avoid causing fluid starvation.
Making certain your fluid levels are on the mark and keeping regular maintenance schedules will help your transmission deliver well over 100,000 miles of trouble-free service. Transmission rebuilds are not cheap, in the range of $4,500 to $6,000 or even more depending on the make of your vehicle.
A rebuild requires removing the transmission from the vehicle and assembling it with factory-approved components. Some shops and dealerships suggest installing brand-new transmissions rather than rebuilding it. High-tech variable ratio transmissions, such as those Honda and Nissan commonly use, generally require full replacement due to their complexity.
If your transmission is slipping from time to time, but the fluid appears clean, you can try several "Stop Slip" additives. As noted, overfilling an automatic transmission is a bad idea, so you have to remove about a pint of fluid from the system before pouring in the additive.
If you have a dipstick, you can purchase an aftermarket pump that will draw fluid out of the dipstick tube with a plastic hose. Sometimes, this helps reduce slippage, but don't kid yourself, you're only buying time.
Like it or not, your transmission will require service soon. It's money well spent. Find out how much a transmission fluid change costs in your area for your vehicle.
The best cars and best deals delivered to your inbox
Price cars, trucks and SUVs on KBB.com
E85 Guide: Everything You Need To Know About Flex Fuel
Do I Need a V8? Or is a V6 Good Enough?
Should You Use Premium Gas?
The New Car Shortage Started To Ease in November
Video: 2023 Toyota Prius First Drive
Upcoming Mazda CX-90 Will Offer Performance Plug-In Model
Stupid Things Slowing Your Car Purchase Down: A Title Paper Shortage
US Fuel Economy, Emissions Almost Unchanged in 2021; Progress Ahead
Car Safety Testers Beefing Up Their Gear for Electric Cars
Study: Your Neighbor's EV Is Lowering Your Electric Bill
It Grew Harder To Get a Car Loan in November