This is it: the new Ford Focus RS. And at the risk of spoiling the next thousand or so words for you, it's about to be nothing short of a sensation for petrolheads the world over.
However, given how excited we've been by this car during the build-up to its launch and how impressed we've been from the passenger seat, I'm not sure that'll actually spoil much of anything for anyone who's been paying the slightest bit of attention to the motoring press over the past year. But there you go, our colours are nailed to the mast: it's brilliant – and for several reasons.
Being officially launched to the press in Spain this week before right-hand drive deliveries begin in April, the new RS combines upper-echelon hot hatchback power and performance with superb handling and driver engagement and an outstanding value proposition. It's a combination that the Blue Oval's go-faster division, Ford Performance, formerly Team RS, consistently hits right on the bullseye, just as it did with the current Fiesta and Focus ST and both the first and second-generation Focus RS.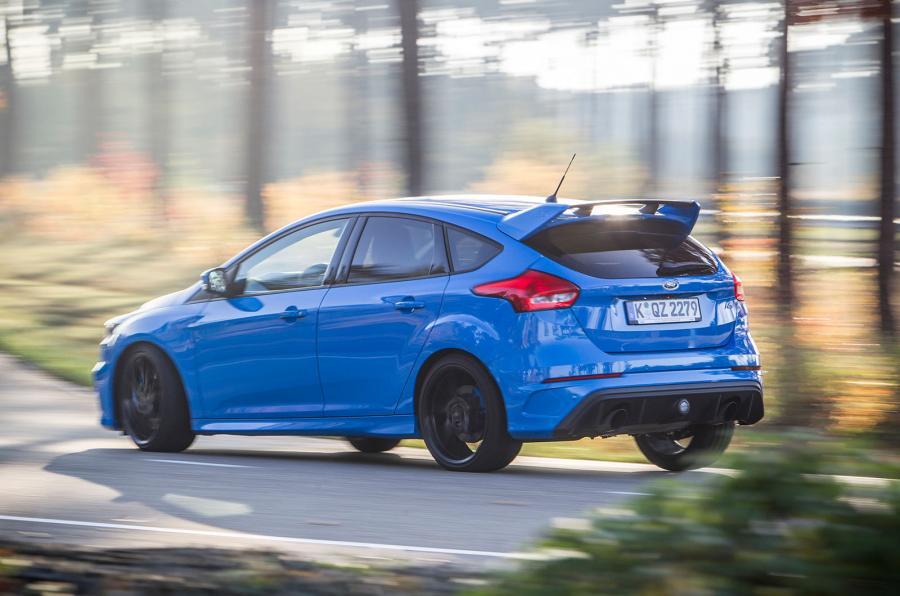 On this occasion, the balance has been struck with a 345bhp 2.3-litre Ecoboost petrol engine and a four-wheel drive system that between them deliver sub-five-second 0-62mph sprinting. That's allied to a cracking hardcore suspension set-up that brings first-order grip and agility and a £29,995 asking price that undercuts every one of the car's serious rivals – and some by a wide margin.
On top of which the new Focus RS adds something that even its £40,000 rivals from Audi and Mercedes-AMG fail to provide: throttle-adjustable handling freakishly similar to that of a proper rear-driven sports car, courtesy of one of the most advanced asymmetrical 'active' four-wheel drive systems available on the market at any price.
It's a perfect fit for those who want the last word in huge pace, all-weather usability and driver thrill from their fast five-door – and who'll tolerate a firm but not uncomfortable ride into the bargain.
More stiffly sprung and damped than the lesser Focus ST, the RS rides with a certain antipathy for your well-being – but not with harshness or malign intent. Its Tenneco dual-rate shocks can be switched independently of the driving modes, but even in thesofter setting it's less forgiving over bumps than, say, a Volkswagen Golf R, but a touch more pliant than a Honda Civic Type R – and at a reasonable remove from anything you'd describe as savage or uncouth.
View all latest drives
The only aspect that might get tiresome for anyone doing big miles in an RS is the tightly sprung, short-travel vertical body movement, which even in the softer setting can make the car bob about a lot over rippled road surfaces. In reality, even this is pretty easy to ignore, and is never so bad as to corrupt the handling.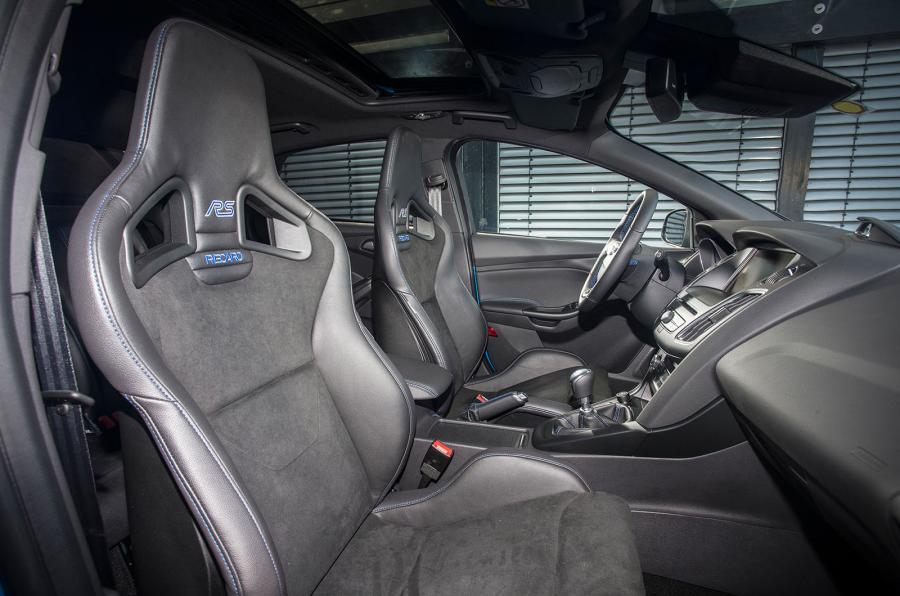 The car's bucket seats force you into a slightly perched drivingposition that wants notably for downward adjustment, but the same has been true of every fast Focus we can remember.
Just like in the ST, you get additional boost and temperature gauges set high on the roll-top fascia and RS-branded seats, while the instruments, leather steering wheel, gearlever gaiter and manual handbrake are all either stitched or highlighted in characteristic Ford RSblue, which looks great. The additional function buttons to note are the drive mode selector adjacent to the gear lever and the damper setting toggle button that replaces the lane-keeping assist button on the left-hand column stalk. Expect to be fiddling with both a lot.
The Ford Mustang-sourced 2.3-litre turbo engine sounds angrier and more raspy than the Focus ST's tuneful 2.0-litre. It's not quite as characterful, perhaps, as Audi 's five-cylinder RS3, but better than Mercedes-AMG's A45. It responds to the accelerator pedal keenly in spite of the high specific output at which it's operating and revs forcefully but progressively though the middle of the rev range, before climbing beyond 6000rpm quite freely.
It strikes you as a surprisingly civil and well-balanced engine – hard-hitting, too, of course – and is all the more involving to interact with as a result of Ford's decision to stick with a six-speed manual gearbox where others fit paddleshift dual-clutch automatics. The gearlever is short and weighty, but just slick and positive enough that you don't feel like you're forcing it through the gate, plus the pedals are well located for heel-and-toe changes.
So, knowing you're in the right gear as you approach a corner because you've actually engaged it first-hand, you tip the RS in – and find that it wastes no time or energy at all in body roll or directional laziness, pivoting keenly for the apex and generating big, instant amounts of lateral grip. The car's heavy steering is just tame enough to dodge any semblance of nervousness, the body checked and settled on its outside contact patches well before you've passed the apex at which you were vaguely aiming. No need to aim so vaguely next time, or be so conservative with your entry speed.
Now comes the RS's party piece – which can be quietly surprising or downright amazing, depending on which driving mode you've dialled up. In Normal and Sport modes the car just goes beautifully neutral as you unwind the heavy steering and squeeze the accelerator, already feeling more directionally poised than the four-wheel-drive hot hatch norm and without allowing the rear axle to run riot, or imposing on you for a significant steering correction.
Track mode keeps the tyre tracks in line, with an understandable eye on high-speed stability. But Drift mode allows the car's attitude to gracefully and gradually build with power, and the RS to dance through the latter part of the bend with a few degrees of opposite lock applied. It still leaves room for the car's ingenious clutch-based rear axle power split to shuffle drive away from the outside rear wheel, and to pull the car straight again when 'a few' degrees of oversteer becomes 'many'. But the way it does all that is incredibly benign and utterly brilliant, and speaks of both the technical superiority of the car compared with its peers and the remarkable effort and expertise of the people behind it.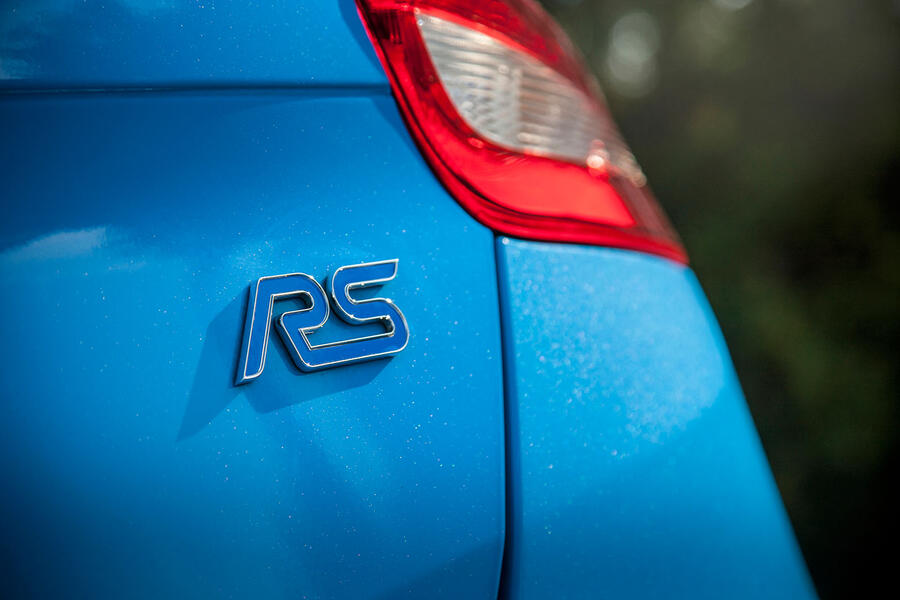 Anybody wanting a hot hatch should consider one, even if you've only got a casual, occasional history of hot hatchback ownership and you have to raid the piggy bank and wait a year to do it. Plenty won't have to stretch the purse strings too far for this car, of course, and the pent-up demand for it should keep residual values high – which is partly why it's such a commendable buy.
There are faster and more powerful alternatives, there are softer and less highly strung ones and there may even be better options for regular track-day use.
But nothing else in the fast hatch arena combines real-world usability with real-road, any-condition pace, supreme driver involvement and such incredible bang for your buck. All of which, for a hot hatchback, seems just about the perfect definition of 'exceptional' in our book.