AutoZone (AZO) has been the new go-to company for investors looking for bargains at a time when the market is hitting all-time highs and there aren't many others to be found. Even with the drop in price of its 52-week high of around $800 to $526, I think that the market has fairly valued a security that was overpriced, to begin with. The fact that a company with a negative book value is viewed to investors as cheap shows that the frothy market has left those with little options.
AutoZone has been reckless as of recent when it comes to buy back shares; especially, over the last 3 years when shares were trading between 16-18 times earnings. The company funded most of its buybacks through the use of debt rather than free cash flow like one of its biggest competitors O'Reilly Auto Parts (ORLY) that also has seen its shares take a nosedive as of recent. AZO has just as much cash flow as ORLY, yet, in my opinion, has laced its balance sheet with debt that was truly not needed.


(Source: Morningstar)
Management is supposed to buy back shares of its company when it feels the market is severely underpricing the company. The chart above is AZO earnings multiple compared to the S&P 500 over the last 10 years. The last time AZO was close to being cheap relative to average P/E multiple was in 2009. I couldn't use book value in the chart because since 2009 AZO has had negative shareholder equity. Also, it seems as though AZO stock price has continued to rise to new all-time high after new all-time high as management has continuously poured more money into share buybacks.

(Source: AZO 2016 Annual Report)


(Source: Author Created)
The average share purchase price over the last 3 years was $622 a share purchased at an average P/E ratio of 17.29, not a price that one would regard as cheap. On top of this capital return plan that management has put in place, it seems to be downplaying and not even taking serious the idea that a company could sell auto-parts online and take a serious chunk of its business. This seems to be the case with most auto-parts CEOs, and interestingly ignorant when you think about other companies which were dismissive of a threat from online, Borders, B&N (BKS), Staples (SPLS), HHGregg (OTC:HGGGQ), Payless, Dick's Sporting Goods (DKS). The worst part about it is these auto-parts companies actually have time to build up their own online front before a real material threat is realized unlike the unfortunate casualties from online selling. When former Office Depot CEO said that retailers are stuck in the 1950s he was correct, why dismiss a budding segment that could be added to your business. Largely, AutoZone's sales come from DIY segment; online could be a great way for AZO to get a foothold in the B2B auto-parts segment as it has been trying; to make the transition to adding a commercial business online could be the avenue to take share away from these companies. While AutoZone has made acquisitions of e-commerce companies in the past, it has paid little attention to them. But capital is needed to grow these businesses and the company seems to want to purchase shares instead of doing so. I'd be hard-pressed to find out that the return of capital that shareholders are getting from management purchasing shares wouldn't get a better return by investing heavily into the new ventures that it acquired.
I like my CEOs to be paranoid, especially if that CEO has Gross Profit Margins of 52% and 20%, Operating Profit Margins like AZO and ORLY. In fact, since margins like that are industry-wide you would think every CEO in the industry would be paranoid. To think that it's not possible for an online competitor, whether it is Amazon (AMZN) or eBay (EBAY), not to take a haircut on margins to gain market share, specifically Amazon as it has proved in the past, is a little ridiculous (Online auto-parts sales were $7.4 billion in 2016, eBay and Amazon hold the top spots with estimates at $8.9 billion in 2017). The online DIY market is growing around 15-20% a year, it's safe to say that this is a real threat to AZO and other auto-parts companies.
If online retailers start putting pressure on the B&M retailers, then AZO would specifically have problems since sales have slowly been growing less over the last 3 years along with its large debt load. Large debt principle payments are owed by AZO from 2017 to 2026 expect in the year 2024. The debt keeps adding up as well and the end of ending debt does not seem to be a point of consideration anytime soon. If online DIY sales continue to grow without B&M retailers taking part, they will take a serious hit to its sales revenue at some point. Since this was to take place then B&M retailers will have no other choice but to lower prices, thus lowering margins in AutoZone's case because it has the debt payments it might not have the capital available to fight back.
As more auto-parts sales have moved online, AZO CEO William C. Rhodes III actually admitted in earnings call from Q2 2016, after online sales only increased 2.7% for the quarter in comparison to 9.2% growth the year previous, that it was facing some pressure from online retailers that contributed to the slower online growth.


(Source: DigitalCommerce.com)
So why the change of heart from saying that the company faces great pressure from online sales to dismissing online sales in its entirety. Well, it might have something to do with the fact that instead of online sales growing slower as of recent they have instead started to recede. In Q2 2017, online sales fell 3% compared to the year earlier, and in Q3 2017 sales were down 2.5%. It's very convenient for management to now say that online won't be a competing force now that sales are declining. A real question that investors should be asking is why is only AZO online sales falling even as online takes over more and more of sales in the industry. As I said before, with online only auto-parts sales at $7.4 billion and growing at 16-20% a year and the overall auto-parts aftermarket industry growing at 4%, it is clear where the industry is headed and it does not seem like AutoZone is in the right position to react if it even cares enough to react.
I wanted to touch on the reasons why some CEOs and executives of the auto-parts companies feel as though they have no threat to worry about.
Management said online pickup in-store is growing faster than online delivery, suggesting that overnight delivery isn't fast enough and that service and advice are key differentiation.
(Source: TheFly.com)
Again, I don't think it suggests that overnight delivery isn't fast enough since the online delivery industry is growing for auto-parts; what it does suggest is that customers just don't want to buy from AZO online but do from other auto-parts online retailers.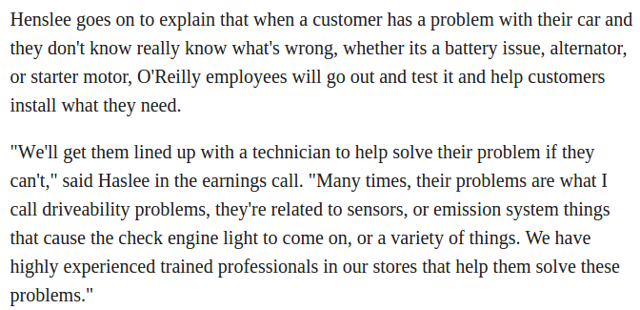 (Source: Business Insider ORLY Q4-2016 Earnings Call)
I am interested in knowing how much sales come as a direct result of the reason provided above as to why customers will be more drawn to ORLY than an online retailer. These two companies get a lot of their revenue from the DIY segment, I am going to go out on a limb and say a good portion of those who purchase auto-parts as a DIY buyer know more about cars than the average person. Based on what Henslee describes as the reason that it has the ability to fight off Amazon, Rock Auto LLC etc. I would regard this as the exemption rather than the rule. In my opinion, what is described above seems like the type of customer that doesn't head directly down to AZO or ORLY to get a part for their car and fix it up themselves, rather it seems like the type of person who heads to their local car repair shop when they see an engine light go on.
Service. This is the other point that is provided above for why they feel their brick-and-mortar stores will fend off online retailers. I'm really not too sure where to start with this one other than I would be scared as an investor if the CEO of my company thinks the path to fending off online retailers like Amazon is through service. This quote from ORLY's CEO has a little bit of irony in it:
I realize that Amazon is the strongest and the best run, and I obviously have a lot of respect for them and I am a customer for household items and other things
(Source: USAToday.com)
Amazon's mantra is customer service, it sacrifices profit for the customer, the customer is all that it thinks about. To think that Amazon can't partner or at some point provide this same technical service as the auto chains is silly and sounds a lot like the same type of dismissal that Barnes and Noble had of Amazon selling books online.
The valuation of Amazon blinds investors on both sides of the argument with whether or not Amazon is overpriced or the great purchase of the century and think Bezos can do no wrong. For those who think that it is overpriced they seem to underestimate the threat of Amazon because of the bias they have for the company; just because a stock has a sky-high P/E doesn't mean they aren't a threat. While I think the company is disgustingly overpriced and has made it look like its operating cash flows are higher due to the large amount of depreciation and amortization from capital leases, I don't let that blind me to the fact that it provides a valuable service to customers even if I wouldn't touch the stock with a ten-foot pole. This leads me to the next "excuse" auto-parts CEOs are using, speed. Investors should honestly ask themselves how long it will take Amazon to have same-day shipping available everywhere in the United States. Currently, the census reports that there are 19,510 cities and towns in the United States, 5000 of which Amazon has Prime Free Same Day Shipping.
In conclusion, I want to make sure I add that I don't think that the auto-parts companies are overpriced; rather I think that after being at an expensive price they have come back to earth and are now fairly valued. It's clear that some of the companies in the industry are complacent after years of growth that has slowed over the last three years. The lack of effort to innovate when they have a big advantage over new online players in the market, while other retailers like Wal-Mart (WMT) have realized the threat and have been investing in the e-commerce space.
Good Luck.
This article was written by
Disclosure: I/we have no positions in any stocks mentioned, and no plans to initiate any positions within the next 72 hours. I wrote this article myself, and it expresses my own opinions. I am not receiving compensation for it. I have no business relationship with any company whose stock is mentioned in this article.